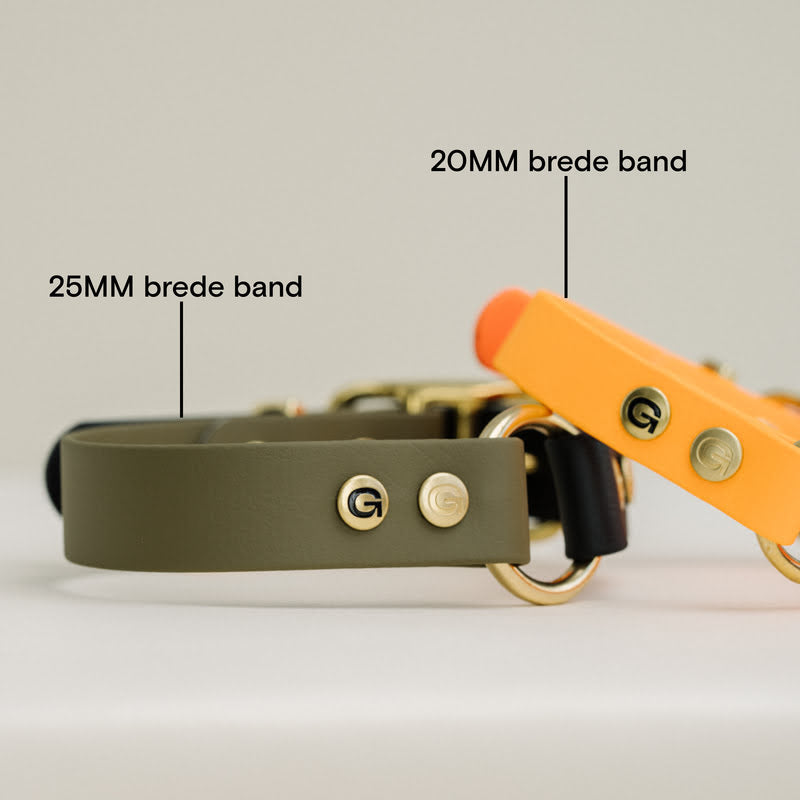 Description
Sustainability / Biothane
Sizes
GULA dog collar design
Our
GULA
dog collars are designed for both the owner and the dog; elegant design, functional & sturdy and a comfortable fit. The collars are made in our own workshop in Amsterdam and are specifically measured for each dog based on the specified neck size. Quality is our top priority, it is in everyone's interest that our products are made of the best materials; durable, water resistant, antibacterial and rustproof.
Qualities of our dog collars:
Collar Materials:
Biothane - High quality nylon combined with a US patented TPU coating. (see Sustainability / Biothane tab for more information)
Solid brass fittings (does not rust, antibacterial)
Collar Applications:
Two connection points for the belt, including one on the brass ring so that the buckle can stay in place
Unique & striking design
Durable
Water resistant / water repellent
Odor and mold resistant
Does not wear and does not rust
Read more about our collar on our collar page

Dutch manufacture and design:

The GULA products are manufactured under high quality standards in Amsterdam.


Durability:
At GULA we have deliberately chosen to work with the patented Biothane. By using this product, we assure our users of a long-lasting and animal-friendly product life. Walking with GULA stands for walking with quality. This means that our products can withstand the frequent running, playing, swimming and sleeping of your four-legged friend without too much wear and tear.
Biothane:
Biothane is a new, patented, structured fabric with a plastic coating that is much better than conventional materials for equestrian sports, outdoor activities and dog supplies. The main superiority comes into play when assessing the durability, hygiene, handling and comfort of the material.

Biothane looks and feels very similar to genuine leather, but without the traditional drawbacks. Biothane products are resistant to:

- Cracks
- Bacteria
- Distort
- Attracting odors
- Become inflexible
- Curls (by water)


Easy to clean and tear resistant:
The GULA dog collars are easy to clean and are odor resistant. The use of Biothane also adds extreme strength to the collar and eliminates potential weak spots that occur with traditional leather.


Antibacterial:
The GULA dog collar is an all-weather dog collar. Water (both fresh and salty), sun and heat do not affect the qualities of the collar. No unwanted odors, dirt, bacteria, fungi or other unwanted substances.


Quality comfort for human dog:
Biothane products are light, flexible and stylishly designed. Our GULA - dog collars will not irritate or stick to your dog's fur and skin.

For more information, visit: https://www.biothane.us/faqs/biothane-faqs/
Every manufacturer and brand that produces collars for dogs uses its own sizing format. This means that you should pay close attention to which size you order for your dog. A size M from one manufacturer may be a completely different size from another manufacturer.


Visit us:Size advice orsize chart per dog breed For more information.
Shipping
Fast shipping
Please allow 1-2 business days to process your order. Expected standard shipping time within the Netherlands is 2 - 4 working days. Within Europe the expected shipping time is 5 - 7 working days, depending on the country and zip code. Worldwide shipping can take up to 2 weeks.
Pick up your order yourself
Yes, Monday to Friday from 9 a.m. to 5 p.m. in the office in Amsterdam (Jan Evertsenstraat 145). If you would like to collect your order, we would like to ask you to select the 'Office Pick-Up' option when checking out and send an email to customerservice@guladogcare.com to specify a day and time of the pick-up. plan your order.
Returns
All returns must be processed within 14 days of receiving the order. Send an email to customerservice@guladogcare.com with your order number and the product(s) you wish to return, and we will help you place the return.

For more information about our shipping policies, please visit our:Dispatchpage.