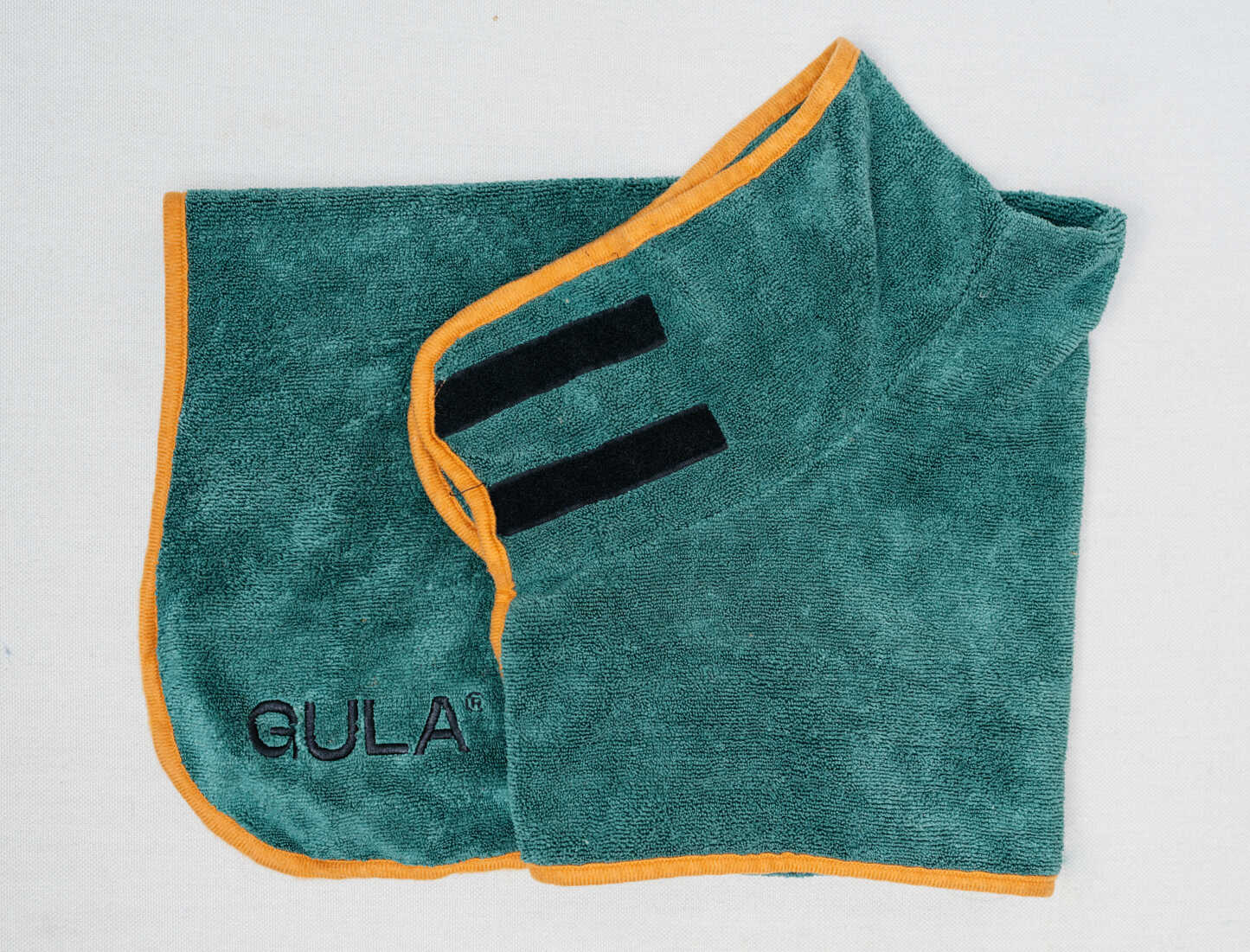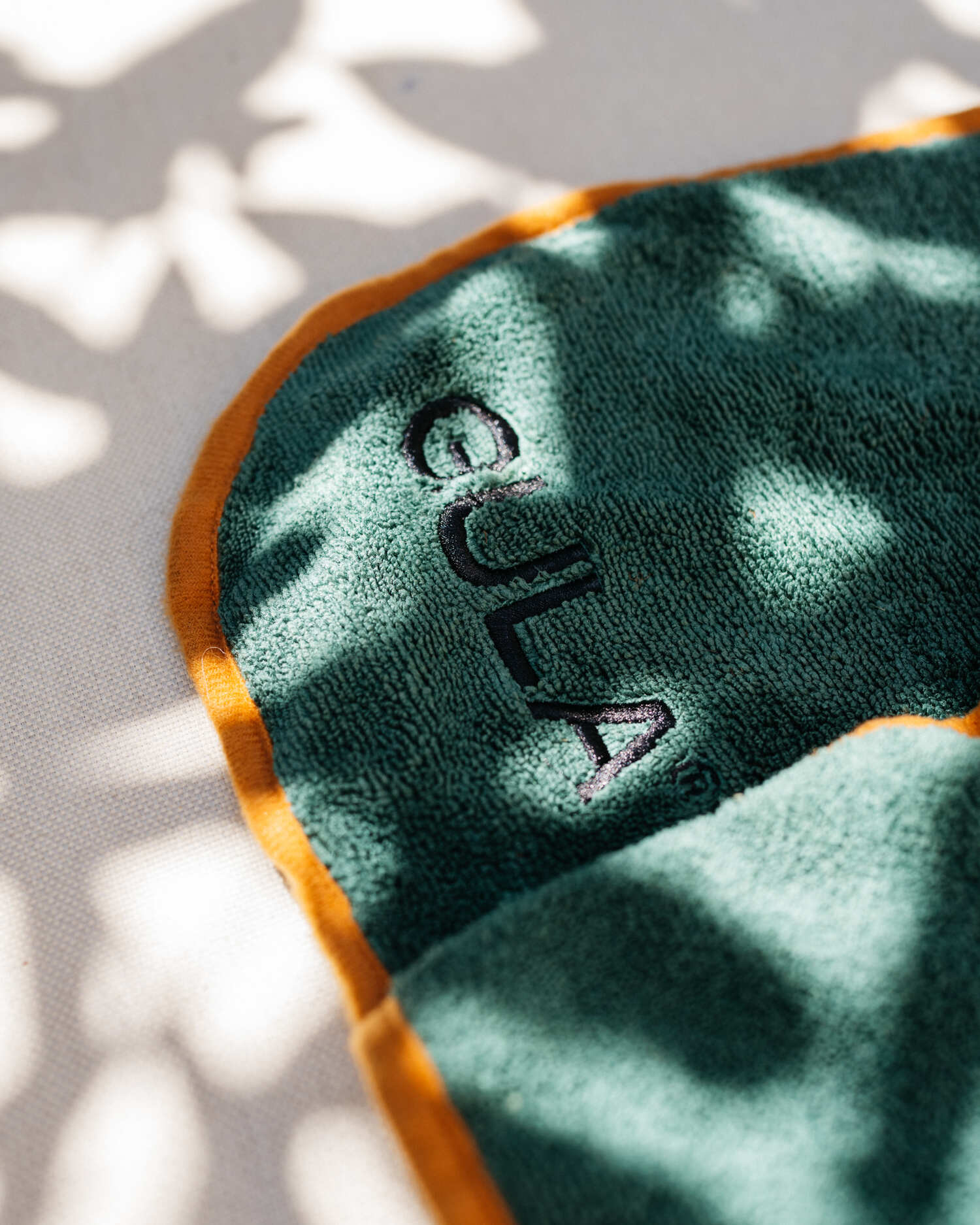 GULA Dog Robe / Dog Dry Towel - Green and Orange
GULA dog bathrobe / towel

Our GULA dog bathrobe is designed for both the owner and the dog; elegant design, functional and a comfortable light fit for the dog. Quality is our top priority, it is in everyone's interest that our products are made of the best materials with qualitative aspects. Our GULA dog bathrobe is ideal for when your dog is wet from a rainy walk, has just been washed or after a soaky drive back from the beach . The microfibre bathrobe has a moisture-absorbing function which ensures that your dog will be dry again in no time. Due to the flap that runs under the belly and can be fastened with velcro, the bathrobe always stays in place.

Qualities of our bathrobe's / towels:
Materials:
High quality Microfibre - Polyester 80%

High quality

Polyamide 20%


Gula bathrobe / towel applications:
Dry function for after walking in the rain or on the beach
Protects your car or furniture in the house against moisture and stains
Comfortable wear
Easy to clean - We recommend washing the bathrobe in the washing machine at 30/40 degrees. It is advised to let the bathrobe air dry.


Fitting and sizing of your robe
To make sure our GULA dog bathrobe fits, remove the bathrobe from the packaging and hang it sideways next to your dog. Keep this in mind as we can no longer take back (return) the products once your dog has put them on. This is due to hygienic reasons. If we conclude upon return that the product has been worn (contains dog hair, contains stains, smells bad or has been washed), the product will not be replaced for another size.
Klik op het maatrol icoontje voor meer informatie over de maten van onze badjassen / handoeken voor honden.
GULA Dog Robe / Dog Dry Towel - Green and Orange
Shipping
Snelle Verzending
Geef ons 1-2 werkdagen de tijd om uw bestelling te verwerken. Verwachte standaard verzendtijd binnen Nederland is 2 - 4 werkdagen. Binnen Europa is de verwachte verzendtijd 5 - 7 werkdagen, afhankelijk van het land en de postcode. Wereldwijde verzending kan tot 2 weken duren.
Zelf je bestelling ophalen
Ja, maandag t/m vrijdag van 9.00 - 17.00 uur in het kantoor in Amsterdam (Jan Evertsenstraat 145). Als je je bestelling wilt ophalen, willen we je vragen om bij het uitchecken de optie 'Office Pick-Up' te selecteren en een e-mail te sturen naar customerservice@guladogcare.com om een dag en tijd van de pick-up in te plannen jouw bestelling.
Retourneren
Alle retouren moeten binnen 14 dagen na ontvangst van de bestelling worden verwerkt. Stuur een e-mail naar customerservice@guladogcare.com met uw bestelnummer en het product of de producten die u wilt retourneren, en we zullen u helpen de retourzending te plaatsen.

Ga voor meer informatie over ons verzendbeleid naar onze: Verzending pagina.